"Olaug's artwork reflect the unmistakable presence of spontaneity, passion and life. Much like her work, Olaug was outspoken and passionate; a genuine free spirit."
Olaug Vethal was born in 1946 in a small parish a few miles North of Oslo/Norway. She studied Philosophy and German in Oslo and she began painting in the early 1970s.
Olaug Vethal studied Arts at the Hamburg University of Applied Sciences. She begun her artistic career painting landscapes in watercolours. Soon she took up figurative painting and other artistic styles. Olaug Vethal had frequently exhibitions in Hamburg, Norway and France.
Olaug Vethal was invited to paint at the jazz concerts held in the clubs of Hamburg. Her passion was for painting musicians and jazz and she developed a great passion and good skills catching the music and the atmosphere of concerts on paper and canvas.
In 1988 Olaug Vethal moved to Malta where she started again giving art lessons and soon began teaching Art at the De La Salle College.
Olaug Vethal became one of Malta's most prolific artists, known primarily for her "…movement and expressive brushstrokes…..each piece is a mosaic of an endless tapestry concerned with freedom of invention" (Dr Joseph Paul Cassar). Olaug Vethal is considered one of the major proponents of Figurative expressionism who also had a touch of impressionism in so far as "capturing a moment in time" and "en plein air" painting. Through this, she embraced the realistic depiction of everyday people and scenes in Malta, particularly village topics.
Her favourite topics included portraits of family and friends, to bathers by the sea, tribal figures, jazz musicians, temples, boats, dancers and nude figures, primarily those of robust figure. She was "a meta-physical artist" as she herself stated and her art progressed in many different ways, leading to the works of her last years where she fell ill, hence the possibility of dwelling on the philosophy of our human existence.
Olaug Vethal passed away in Malta in 2007.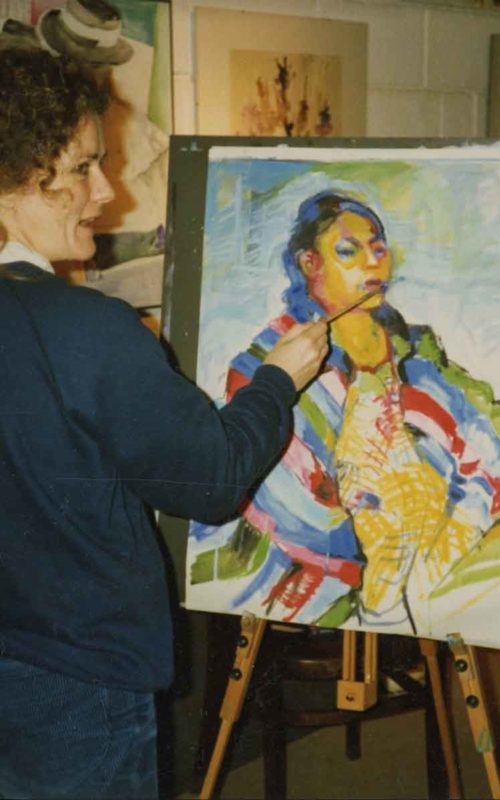 Follow Olaug on Social Media